Meet Janet
I am Janet Riley, candidate for Orinda City Council. I have lived in Orinda for over 40 years attending Orinda public schools as a child and returning to raise our children here just a mile from my parents. Service, leadership, and stewardship describe my adult volunteer experiences since 1990. I am interested in serving on the Orinda City Council because I care about Orinda and want to help meet the needs of and have an impact on the community. Orinda means the world to me, and I want to continue serving Orinda on the City Council.
Service
I have a deep commitment to Orinda. My 30+ year service to Orinda spans so many organizations that are important to me and reflects my decades long interest in helping make Orinda the best it can be for its children, families, and seniors. As an adult, I started serving Orinda when we had a one-year-old and my husband Ben and I headed up the Orinda 4th of July Celebration through The Orinda Association.
Through my membership in the Orinda Garden Club and on a national level, I am focused on conservation issues and am involved in advocating for legislation that helps the environment such as native plant restoration. On a local level, I want to support efforts to protect the nature and character of Orinda through fire prevention, road safety, sustainable building, San Pablo Creek restoration, and other sustainable practices.
Leadership
The educational needs of our school children have been a top priority for me. I have dedicated my volunteer efforts while my kids were in school to helping the critical stakeholders – students, parents, teachers, principals, school boards, and fundraising organizations. As President of the Educational Foundation of Orinda (now ONE), Sleepy Hollow Parents' Club and Orinda Intermediate School Parents' Club, I wanted to be part of the process of enriching the curriculum for every child in Orinda from kindergarten through 12th grade. I wanted to see that our children had electives in music, instrumental music, theater, art, environmental education, video production, and computers. I listened to the concerns of the various stakeholders, worked with them collaboratively to achieve their common goals, and was committed to making what they needed happen through board meetings, site council meetings, and year-round fundraising efforts.
Stewardship
I have a profound concern for those who are struggling for basic needs in our greater community. Before the pandemic, I prioritized the needs of refugees who needed help transitioning to the United States and helped sponsor three refugee families from Burma and Afghanistan through Jewish Family Services and Catholic Charities.
When the pandemic hit us hard, I wanted to help our neighboring communities who needed food and other necessities and coordinated (and continue to coordinate) monthly food drives and bag lunch programs through Santa Maria Church.
I was deeply honored in 2017 when The Orinda Association and the Orinda Community Foundation awarded me Orinda Citizen of the Year.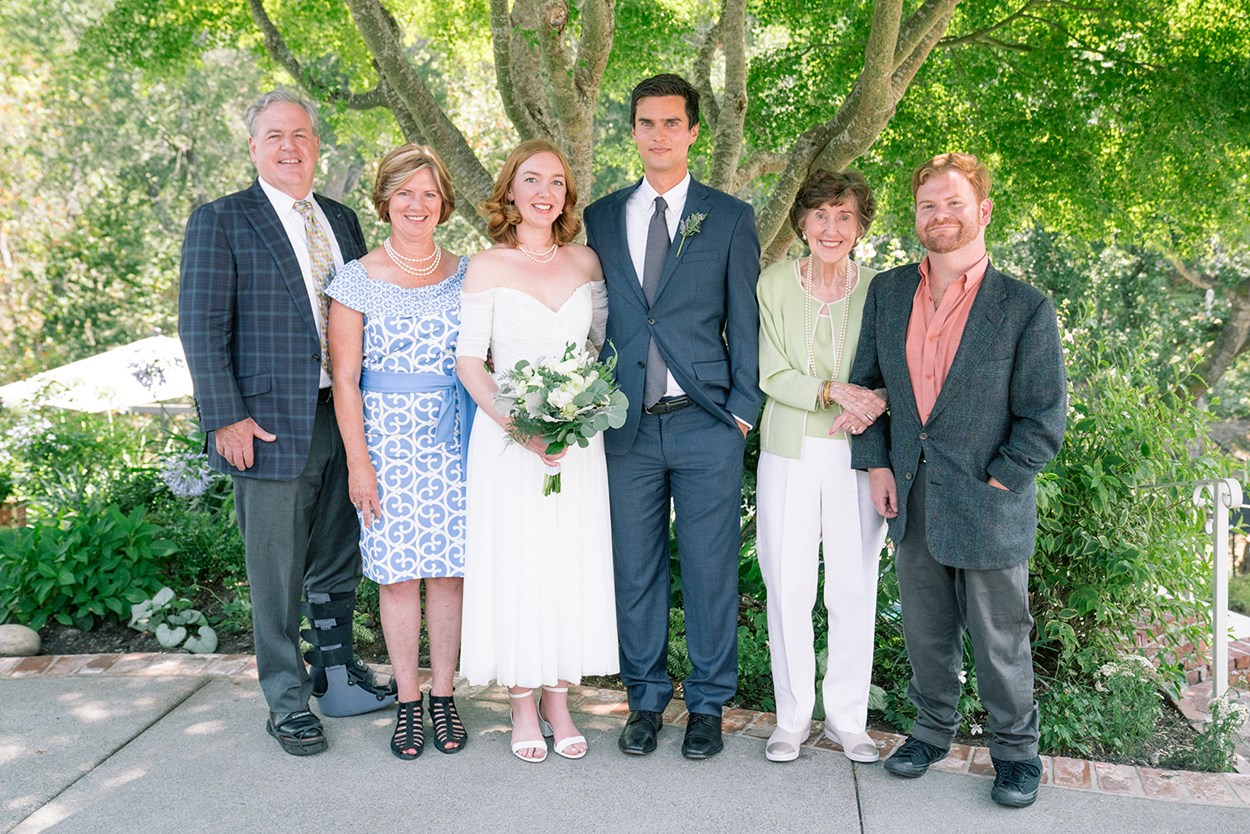 My Family
I met my husband Ben in law school, and we've been together over 40 years. We love to walk our two Golden Retrievers, Blazer and Sunny, together. Our favorite hikes are in the hills of nearby regional parks - Briones, Tilden, Sibley, and Redwood. Ben is an incredible singer-songwriter in folk and country genre. Ben wrote and recorded a beautiful song on Earth Kindness and Steve Harwood set it to a photo collage for a regional garden club event for me last spring. Click here to hear the song and enjoy the slideshow.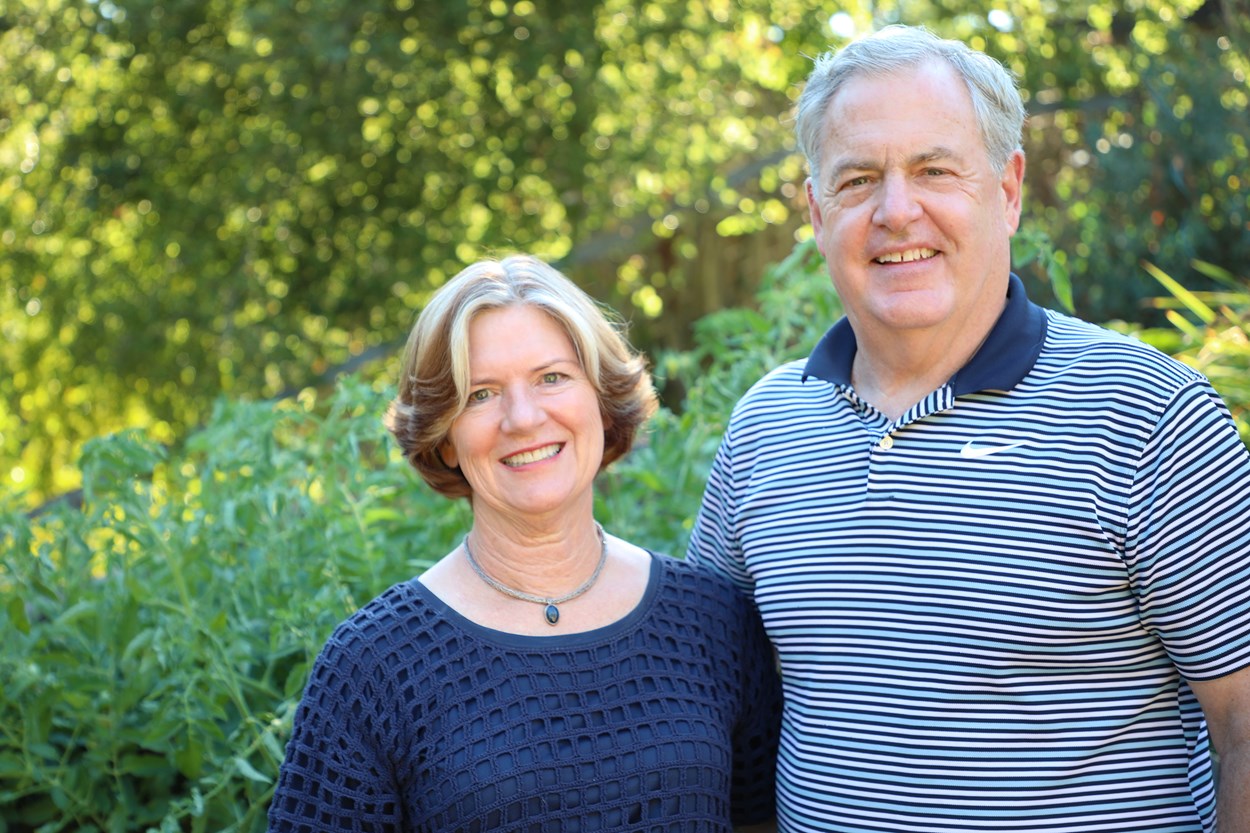 Our son, Keith, earned his Ph.d in American History this summer and is teaching in the East. Our daughter, Jamie, is a social worker in behavioral health for a local hospital. She and Andrew got married during the pandemic under our 30-year-old maple tree, now affectionately called the Wedding Tree. My mom, Jeanne McCormick, who lives a mile from me in my childhood home, loves to play bridge and being with her friends and family. We visit with my brother Dave in Tahoe and my brother Ken and sister-in-law Karla in Lafayette as often as we can.
---
Occupation: Orinda Volunteer and Retired Attorney
Education:
Miramonte High School, 1976
UC Berkeley, B.A. 1980
UC Hastings Law School, J.D. 1983
George Washington Law School, LL.M 1984, Master of Law in Taxation
Honors: Orinda Citizen of the Year 2017
Volunteering for Orinda Schools:
President, Sleepy Hollow Elementary School Parents' Club, 1997-98
Co-President, Orinda Intermediate School Parents' Club, 2005-07
President, Educational Foundation of Orinda (now ONE), 2007-09
Orinda Community Volunteering:
Co-Chair, The Orinda Association's 4th of July Celebration and Parade, 1990
Co-Leader, Girl Scout Troop, 2000-11
President, Orinda Garden Club, 130 members, 2013-15
Co-Chair, Social Justice Committee, Santa Maria Church, 2019-Present
Other Volunteer Roles:
General Counsel/Board Member/Secretary, USTA Northern California, 1997-2002
Lamorinda Adult Respite Center (LARC) for adults with Alzheimer's, 2009-2013
The Garden Club of America Conservation Committee, 2022-24
The Garden Club of America National Affairs & Legislation Committee, 2022-24
Work Experience:
Pillsbury, Madison & Sutro (Pillsbury), Associate, General Tax, San Francisco, 1984-1987
Wendel, Rosen, et al (now Fennemore Wendel), Associate, Business & Tax, Oakland, 1987-89
Other Interests: Tennis, Skiing, Gardening, Card games, Hiking with dogs